Cold Water Survival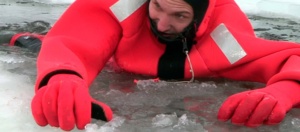 Course duration: 1 days
Base cost: RUR 4 000, USD 80, EUR 75.
Special rates are offered to certain participant categories
Register for the course: tel. +7 (812) 459 47 29, +7 (812) 4594707
or e-mail to: msantsevich@mtc.spb.su, mtc.spb.bsmolensky@yandex.ru.
Course supervisor:
Maksim S. Santsevich
Tel.: +7 (812) 4594707
Target audience: personnel of ships operating in polar waters.
Entry requirements: none
Course outline: Objective of the course is training of ship personnel on procedures of survival in cold water in accordance with section 14.1.3 of Guidelines for Ships Operating in Polar Waters (IMO Resolution А.1024(26)), based on IMO Guide on Cold Water Survival (MSC.1/Circ.1185 of 30.11.2012).
Main sections of the programme:
Threats of cold water immersion.
Actions prior to abandoning the ship
The survival phase in a survival craft The survival phase in the water
The rescue phase. Guidance for personnel engaged in search and rescue.
Treatment of people recovered from cold water
Treatment of people recovered from survival craft.
The apparently dead.
Each candidate for the course certificate should demonstrate required competence standard. Competence evaluation criterion is successful outcome of the end-of-course test.
Additional requirements to participants: none
Document on completion
Upon successful completion of the course the participants are issued with the certificate by the Makarov training centre of Admiral MAKAROV SUMIS.
Certificate
Venue: Bolshoy Smolensky, 36. Training Centre for Survival at Sea (poolside building, office 208). On the map. Nearest metro station – Elizarovskaya.
Calendar: The courses are run as group enrolments are complete (from 5 participants)
Training language and mode: Language – Russian, mode – intramural, fulltime with elements of e-learning.
Theoretical training and preparation for end-of-course assessment (knowledge testing) are performed with e-learning system.
---